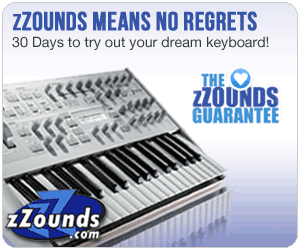 I used to shop at my local music store for all of my audio production needs.  Until recently I have never bought any equipment online.  After seeing positive reviews of zZounds I decided to give it a try.  After making a few purchases, I decided to write my own review of zZounds online retailer.
As I began to look at zZounds extensive online collection of audio equipment and supplies, I saw how much useful information they had about each of the products.  Many online retailers seem to be lacking in this aspect but not zZounds. The user Manual for each product can also be found in the information.
When I placed my first order it shipped within 24 hours.  I was also pleased with 0 sales tax on everything and the free shipping since my order was over $50.00. For my next order I decided to try out the play as you pay program. This option is available for orders over $250, and allows you to pay for the audio equipment you buy over four months.  I really enjoyed this feature since I could begin using the equipment I ordered right away instead of waiting until I had the full amount saved up.
The first payment is due at the time you place the order and has a one time small service charge. The next three payments are drawn 30, 60, and 90 days after the first payment. For example, if you buy something that is $500 through the pay as you play program $125 is due right away. The rest comes out on the bill dates specified in $125 increments.
When looking at prices keep in  mind online stores that have lower prices often do not include the sales tax and shipping costs in their displayed price. They will add on these costs once you decide to make a purchase, and many times this will bump the amount you end up paying way up. In the end you might end up paying even more for the same item found at zZounds. With zZounds the price you see is often exactly what you will end up paying. No hidden fees like so many other online retailers, and zZounds guarantees the lowest price anyways.
Many of the zZounds prices are the same as what I would find at my local guitar center. No sales tax makes zZounds quite a bit cheaper in the end though.
So far I have not had a need to use customer service, which to me is a good thing since that means everything I ordered from zZounds showed up and worked as expected. Although I do hear that their customer service is excellent if I ever need it.
Overall my experience zZounds has been outstanding.  They have definitely earned themselves a new, loyal customer.  I plan to do all my future audio equipment shopping there from now on.
Check out zZounds and see for yourself why I choose to do all of my audio equipment shopping from them.